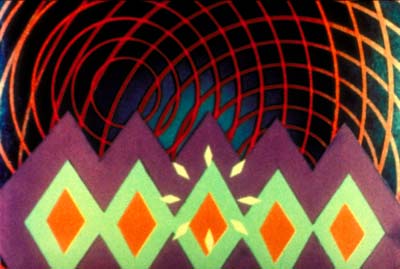 I have become interested in the history of the music video after watching an old Beastie Boys
music vid
while working (
Deliverance
was taken off-screen to show someone the "it's a robot--doing the robot!"). That got me thinking how fun it would be to take a class in the evolution of the music video. Thus, I started scoping it out on my own since I know of no such class at UT, nor am I student.
According to
Wikipedia
, Oskar Fischinger is one of the earliest filmmakers who experimented with music and film. He made animated films based around a pre-existing musical score--popular and classical music were both used. A few of his short films used tunes produced by German record label, Electrola, and ended with an advertisement for the newly released album. These films were screened at movie houses around Germany before the feature began...the first music video!
Getting himself into serious financial trouble and being in Munich at the turn of the 20th century, he picked up only his best equipment one night and ran away to Berlin. He choose to walk in order to get away undetected. While walking he would take single frame shots of the countryside as he went. He later released all of this as
Walking From Berlin To Munich.
While in Berlin, Fischinger found work as an animator and set designer on Fritz Lange's
Frau Im Mond.
He continued to experiment with abstract art, music, and film until Nazism made working and distribution difficult and uncomfortable. He moved to LA with a job offer at Paramount Pictures. Fischinger made several films during this time that were quite notable (3 of them were included in the Olympiad of Animation's list of top films in 1984). He also worked on Disney's Fantasia opening sequence of Bach's Toccata and Fugue in D Minor. However he did quit without credit because Disney simplified his work too much. Irreconcilable artistic differences.
The non-profit
Center For Visual Music
has compiled his films into a DVD series. The first collection of 10 films were released in 2006.
I can't find any of his films online, but here's an example in the form of an
Homage.